Hello SpiderForest webcomic readers! Here is your monthly dose of network news.
First, SF is scheduled to once again accept applications for new members from January 1st-24th! If you have a webcomic that meets our very simple criteria as outlined on the apply page, please consider applying or telling your friends about the opportunity! Questions not addressed on the apply page should be posted on our forum.
Lora Innes (of The Dreamer) is once more calling for comic creators across the globe to join the Comic Creators Alliance to raise funds for Love146 and Gracehaven, two organizations working to help the victims of sex trafficking. If you are interested or know a comic creator who might be interested, check out http://comicalliance.weebly.com/index.html for more information.
—-
From School Spirit: Each year around the third week of December, just when the End Of Year Series of larger one offs begins, up goes that year's End Of Year Report Strip. It's pretty well one of the characters reading an end of year report about the strip, much like any school report. The trick here is, I rely on readers to send in comments that go into that strip.
In short… if anyone's reading and wants to contribute… jump in quick and send some commentary about the previous year's strips and it might make it into that particular strip.
Other than that… just finishing off the last storyline of the year before a few holiday stand alones over Christmas before starting again in the new year.
—-
Planes of Eldlor wants your vote for the holidays! Here's the deal – we have our sights set on a high ranking on TopWebComics for the month of December. If we're within the top 60 on December 20th, there will be one extra update on Thursday of that week. If we're within the top 40, there will be two extra updates that week. And if we reach the top 20 – three extra updates that week!
Do you accept this quest?
(We don't expect this to be an issue, but we recently saw someone get thrown off of TWC because their voters cheated. So to that effect, there's only one rule – vote legitimately! Thank you guys!)
—–
Colbey has been searching for Peter Wolfe for quite sometime in KEZ's comic What it Takes, and while it may be a long time until she finally finds him, at least you can see them together! This wallpaper featuring Colbey and Peter on a park bench before The End can be purchased for only $1.50 from Chez Kez. It's gone Dec 15, when a new image becomes available!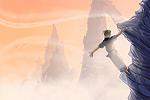 —-
More news as it comes!